Exhibition
Art in Black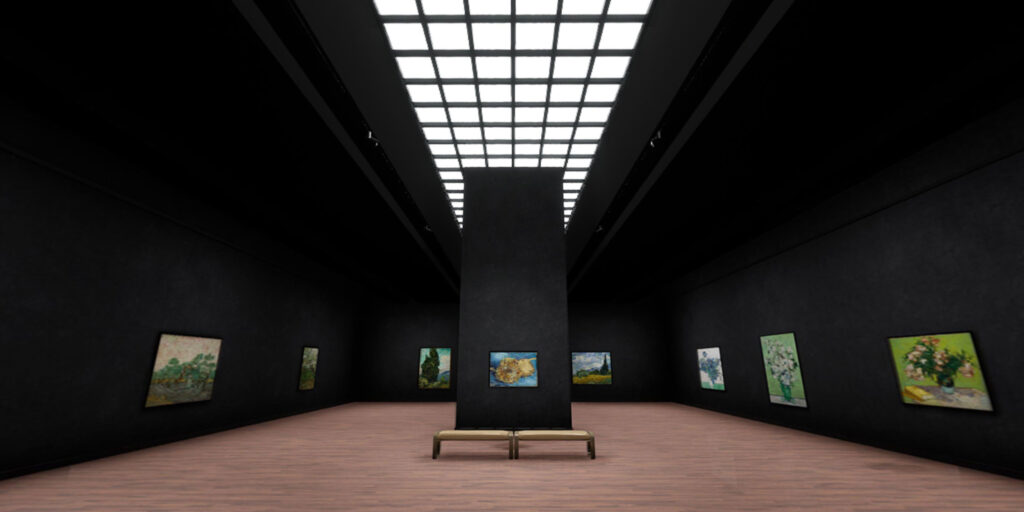 Vincent van Gogh Exhibition
The Gates Museum's first exhibition of works by Dutch Post-Impressionist painter Vincent van Gogh. The exhibition will feature 30 works from the collections of the Metropolitan Museum of Art, the Art Institute of Chicago, and the National Gallery of Amsterdam. We hope that you will enjoy the world of Van Gogh, the "Painter of Fire," who lived a short but intense life of 37 years, in virtual form.
Art in White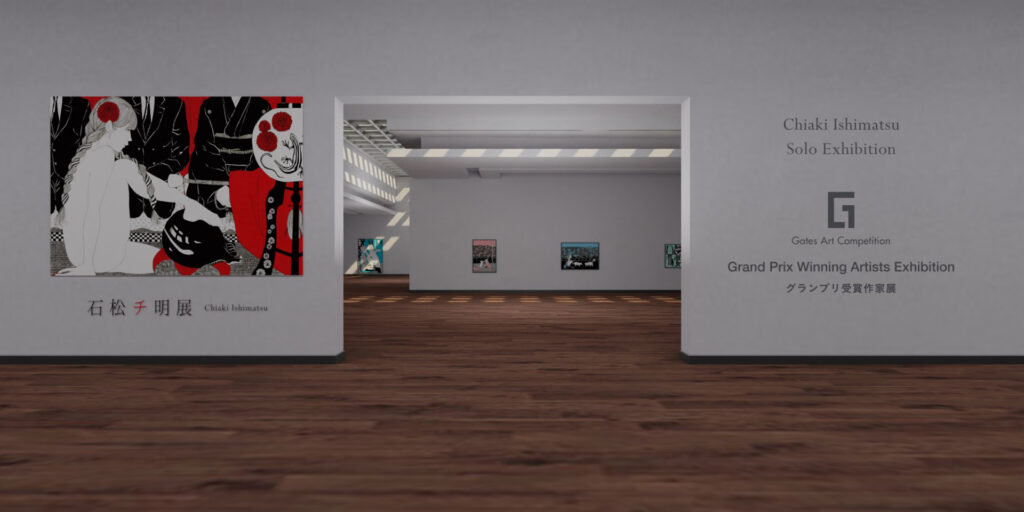 Gates Art Competition Grand Prix Winning Artist Exhibition - Chiaki Ishimatsu
Gates The Virtual Art City is holding a solo exhibition of Chiaki Ishimatsu, the Grand Prix winner of the "Gates Art Competition," the third open competition exhibition.
Ishimatsu focuses on what is considered less attractive in the world and portrays its appeal. In her paintings, which she calls "un-beautiful woman paintings," she depicts "girls" who are too young to be called "lady" and too impure to be called "little girl". The "girls" don't smile kindly or charmingly. However, the penetrating gazes of the girls are like a strange sensation, as if they can see right into your heart.
This exhibition features 30 works. Please enjoy the mysterious world of Chiaki Ishimatsu.
Art in En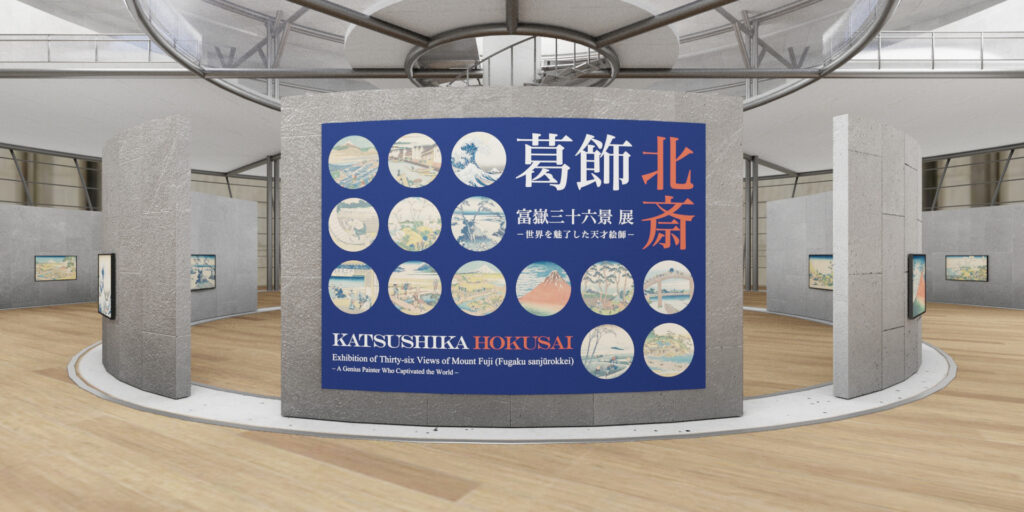 Katsushika Hokusai, Exhibition of Thirty-six Views of Mount Fuji(Fugaku sanjūrokkei)
– A Genius Painter Who Captivated the World –
Katsushika Hokusai is known worldwide as the most famous Ukiyo-e artist, and has left about 30,000 works throughout his 90-year life. His representative series of Ukiyo-e landscape paintings, "Thirty-six Views of Mount Fuji(Fugaku sanjūrokkei)" is a Nishiki-e (multicolor woodblock print) that depicts Mt. Fuji from all angles with various expressions. Hokusai is so famous that mentioned synonymous with ukiyo-e, and he created The Great Wave "Kanagawa Okinamiura" and Red Fuji " Gaifū kaisei ", which have permeated as Japanese icons all over the world.
In this exhibition, we will introduce 30 items from the "Thirty-six Views of Mount Fuji (Fugaku sanjūrokkei)" series. Please enjoy Hokusai's masterpieces that still fascinate many people.
Art in Sky I
Pierre-Auguste Renoir Exhibition
– The Artist Who Painted Happiness –
The French Impressionist painter Pierre-Auguste Renoir (1841-1919) has been called "the only painter who never painted a sad picture", and his style is characterized by a soft touch and rich colors with plenty of natural light. In the more than 50 years of his career, he painted a wide range of subjects, including portraits, families, landscapes, flowers, still lifes, and nudes, but the consistent theme in all of his works was to depict a happy world filled with the joy of living.
This exhibition features 50 works from the collections of the Metropolitan Museum of Art, the National Gallery of Art, the Art Institute of Chicago, the Oslo Museum of Art, and the Cleveland Museum of Art. As a unique virtual experiment, the exhibition features works that have been enlarged to twice the actual size of their long and short sides (four times the area). We hope you will enjoy Renoir's vividly drawn works.
Art in Sky II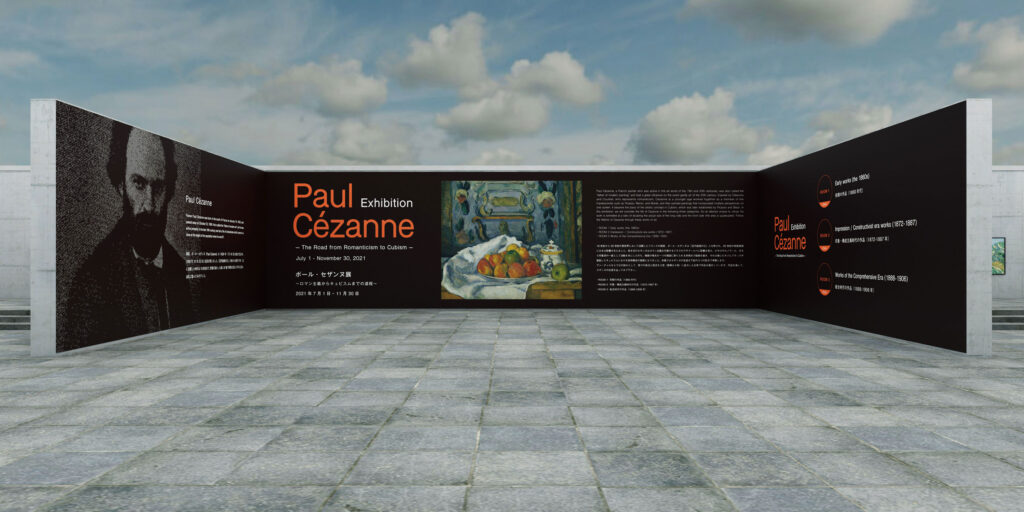 Paul Cézanne Exhibition
– The Road from Romanticism to Cubism –
Paul Cézanne, a French painter who was active in the art world of the 19th and 20th centuries, was also called the "father of modern painting" and had a great influence on the avant-garde art of the 20th century. Inspired by Delacroix and Courbet, who represents romanticism, Cezanne at a younger age worked together as a member of the Impressionists such as Picasso, Renoir, and Monet, and then painted paintings that incorporated multiple perspectives on one screen. It became the basis of the artistic concept in Cubism, which was later established by Picasso and Black. In this exhibition, we will consider the life of Cezanne in the following three categories. As an attempt unique to virtual, his work is exhibited at a ratio of doubling the actual size of the long side and the short side (the area is quadrupled). Follow the lifetime of Cezanne through these works of art.

・ ROOM 1 Early works (the 1860s)
・ ROOM 2 Impression / Constructivist era works (1872-1887s)
・ ROOM 3 Works of the Comprehensive Era (1888-1906s)